Visual impairments change the way a child gets around, obtains information, and interacts with others. Ongoing instruction from specially trained teachers and therapists can provide the specialized communication, literacy, academic, mobility, daily living, social, and other skills that visually impaired children need to thrive.However, if not properly managed, vision impairments can lead to social isolation, depression, and injury.
From Good Kids, Bad Habits: The RealAge Guide to Raising Healthy Children by Jennifer Trachtenberg.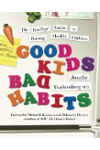 Continue Learning about Visual Impairments
Optical issues with the eye are quite common, possibly because we started as cavemen who did not have to read tiny letters on a computer screen as you may be doing right now. Conditions that may be corrected with optics include as...
tigmatism, near and far sightedness and some forms of visual field distortion. Some eyes have trouble seeing color the way other's do. This is called color blindness, and is more common in men. As we age there are common diseases and concerns including cataracts and glaucoma. Having diabetes can make you more likely to develop retinopathy, when blood vessels in the retina break and leak into the eye. Some conditions may lead to partial or total blindness. Legal blindness is a legal term more than a medical one, but meeting the standard for legal blindness can qualify you for special help.
More