West Nile Virus is transmitted by infected mosquitoes during summer and fall. If you think you have been infected only a blood test can determine if you have West Nile Virus. There is no medicine for this illness but a human vaccine may be available in the future.
Get medical help for:
headache with neck stiffness
high fever
tremors, muscle weakness
convulsion/seizure
vision loss
numbness, paralysis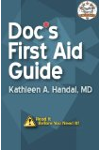 More About this Book
Doc's First Aid Guide: Read It Before You Need It
In a medical emergency, time is of the essence. "Doc's First Aid Guide" is an illustrated, first-aid pocket handbook designed to be used as a quick reference and includes the latest CPR guidelines....
Continue Learning about Viral Infections

Viral infections like herpes simplex, respiratory syncytial virus (RSV), chicken pox and rotavirus are infections caused by a virus instead of a bacterium. Viral infections do not respond to antibiotics, but some specific viruses ...
like influenza A and B can be treated with certain antiviral medications. Most commonly, treatment for viral infections includes drinking lots of fluids, getting rest, eating well and letting the illness run its course.
More