If your child has mononucleosis, he may exhibit the following symptoms:
prolonged illness
fever
swollen glands
fatigue
sore throat
Speak to your child's pediatrician if you are concerned about your child having these symptoms.
From Good Kids, Bad Habits: The RealAge Guide to Raising Healthy Children by Jennifer Trachtenberg.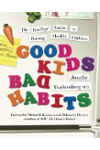 Continue Learning about Viral Infections

Viral infections like herpes simplex, respiratory syncytial virus (RSV), chicken pox and rotavirus are infections caused by a virus instead of a bacterium. Viral infections do not respond to antibiotics, but some specific viruses ...
like influenza A and B can be treated with certain antiviral medications. Most commonly, treatment for viral infections includes drinking lots of fluids, getting rest, eating well and letting the illness run its course.
More