Rotavirus is a virus that causes severe, watery diarrhea, fever, vomiting and stomach pain. It's one of the most common causes of diarrhea in children and can spread like wildfire. Called rotavirus because under the microscope the virus looks like a wheel, the disease is common during the winter in schools and daycare centers.

Rotavirus is easily spread, especially among young children who don't always wash their hands after using the bathroom or before eating. Vaccination is an important line of defense.

Trinity Health is a Catholic health care organization that acts in accordance with the Catholic tradition and does not condone or support all practices covered in this site. In case of emergency call 911. This site is educational and not a substitute for professional medical advice, always seek the advice of a qualified healthcare provider.
Rotavirus is the most common cause of diarrhea in children in the United States. The most common age to get rotavirus is between 3 and 35 months. Rotavirus usually happens from November to May, but can happen at any time. Adults sometimes get rotavirus, but it is usually a mild illness. It takes 1 to 4 days from contact with the virus until a person gets sick.
Rotavirus is a virus that causes vomiting and diarrhea (loose stools). Babies and children can get sick quickly because they can lose a lot of fluids from the body. A child with vomiting, diarrhea and fever may become dehydrated (dried out) more quickly.
The virus is found in the stool (bowel movement), which may be
watery, green and foul-smelling.
The virus may be in your child's bowel movements one to three days
before he gets sick. He may be ill for up to 10 days.
Rotavirus can affect people of all ages, but it is usually worse in children
6 to 24 months old.
Rotavirus causes severe acute gastroenteritis (vomiting and diarrhea) that can lead to hospitalization and death. By the time children are two years of age, the vast majority have had a rotavirus infection, and if so, are protected from this virus family going forward.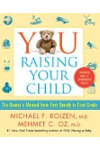 Continue Learning about Viral Infections

Viral infections like herpes simplex, respiratory syncytial virus (RSV), chicken pox and rotavirus are infections caused by a virus instead of a bacterium. Viral infections do not respond to antibiotics, but some specific viruses ...
like influenza A and B can be treated with certain antiviral medications. Most commonly, treatment for viral infections includes drinking lots of fluids, getting rest, eating well and letting the illness run its course.
More