Viral infections can be divided into three groups:
Those transmitted by insects such as mosquitoes, ticks, or biting flies.
Those transmitted by exposure to or consumption of animals that are host to the virus.
Those transmitted from human to human.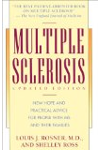 More About this Book
Multiple Sclerosis
Too often, multiple sclerosis is thought of only as "the crippler of young adults." But in fact, 75 percent of all people with MS will never need a wheelchair. In Multiple Sclerosis, Dr. Louis J....
Continue Learning about Viral Infections

Viral infections like herpes simplex, respiratory syncytial virus (RSV), chicken pox and rotavirus are infections caused by a virus instead of a bacterium. Viral infections do not respond to antibiotics, but some specific viruses ...
like influenza A and B can be treated with certain antiviral medications. Most commonly, treatment for viral infections includes drinking lots of fluids, getting rest, eating well and letting the illness run its course.
More