Rotavirus causes diarrhea in children. There are no available antibiotics or antiviral medications to treat rotavirus. The treatment is keeping well hydrated with fluids that contain electrolytes such as pedialyte or Gatorade. If a child is unable to tolerate these fluids and becomes dehydrated, it is necessary to go to the hospital to receive intravenous fluids.
Rotavirus is a common cause of diarrhea in kids. This ugly virus is very foul, very green, and very contagious. An oral vaccine given at two, four, and six months is effective. It's also safer than the previous injectable vaccine, which was associated with intestinal lymph nodes leading to something called intussusceptions. Taking a probiotic -- an oral supplement or other preparation containing beneficial healthy bacteria to replenish the gut -- seems to help reduce diarrhea associated with the rotavirus in older children and adults. To treat infants, breast-feeding moms should take the probiotic, too, as children populate their guts with bacteria found around and in their mothers' breast milk. As that bacteria becomes popular in and on the mom, that decreases intestinal infections in your baby.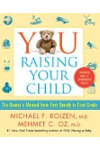 Continue Learning about Viral Infections

Viral infections like herpes simplex, respiratory syncytial virus (RSV), chicken pox and rotavirus are infections caused by a virus instead of a bacterium. Viral infections do not respond to antibiotics, but some specific viruses ...
like influenza A and B can be treated with certain antiviral medications. Most commonly, treatment for viral infections includes drinking lots of fluids, getting rest, eating well and letting the illness run its course.
More