Vertigo is a sensation of motion, typical of seasickness and often described as spinning, turning, rocking, or floating. At times it may be severe enough to prevent the person from standing or walking. Treatment with medication is generally effective, and if the patient experiences symptoms all day long or for more than a few days, medication can be taken as a preventive measure. Dramamine is the most commonly used medication, although Bonine, Marezine, and Torecan are also effective. Drowsiness is a common side effect of these drugs, especially if taken in high doses. Marezine is given by injection; the other medications are available in tablets.
Transderm Scop is still another effective treatment for vertigo. It is a medicinal patch that is placed on the skin behind the ear. The system is programmed to deliver the medication to the body over three days. Only one disc should be worn at a time. It's important to wash the hands after applying the patch to avoid getting the medication in the eyes; this can cause temporary blurring of vision and dilated pupils.
The most common side effect of Transderm Scop is dryness of the mouth, which occurs in about two-thirds of users. Drowsiness occurs in only about 15 percent. In rare cases confusion, with hallucinations, has been reported.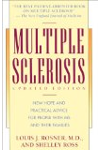 More About this Book
Multiple Sclerosis
Too often, multiple sclerosis is thought of only as "the crippler of young adults." But in fact, 75 percent of all people with MS will never need a wheelchair. In Multiple Sclerosis, Dr. Louis J....