A vegetarian diet can mean lots of different things. There are vegan diets which contain no animal products what so ever or lacto ovo which contain dairy products and eggs but no other animal protein. Generally though a vegetarian diet means you are not eating beef, chicken, fish, shellfish, lamb or pork. A vegetarian diet is full of fruits, veggies, healthy fats, vegetable protein like soy and other legumes, and whole grains.
A vegetarian diet is one that typically is plant-based. Vegetarian diets vary in terms of foods allowed and restricted.
Lacto-ovo vegetarian is one that allows dairy and eggs.
Lacto vegetarian is one that allows dairy (no eggs).
Vegan is a strictly plant-based diet (excludes all animal products including dairy and eggs).
A vegetarian diet is based on plant foods such as: grains, nuts, seeds, legumes, vegetables and fruits. There are different types of vegetarian diets, the three most common types are: vegan which restrict all animal products; lacto-vegetarian which includes milk in the diet; and the lacto-ovo-vegetarian includes milk and eggs. Another variation of the vegetarian diet is the pesco-vegetarian which includes fish.

The vegetarian diet has been shown to help decrease the risk of obesity, heart disease, hypertension and certain types of cancer.
Vegetarian diet is one where you do not eat fish, poulty, or meat but you do eat dairy such as milk, cheese and eggs.
A vegetarian diet is one that's filled with fruits, vegetables, whole grains, nuts and seeds, legumes, dairy, eggs, and soy products. You do not eat meat, poultry, or fish. You get your protein from beans, legumes, seeds, soy, eggs, and dairy products. There are many benefits to eating a vegetarian diet such as weight loss, maintaining a healthy weight, and a lower body mass index (BMI). People with diabetes may benefit from a vegetarian diet by the improvement in the insulin response. Also, with a vegetarian diet, there is an improvement in blood glucose control for many with diabetes.
Vegetarianism includes a variety of plant dominant diets, from those that include only plant derived foods (vegan); those that include eggs and/or dairy (lacto and/or ovo); to those that include fish (sometimes referred to as "pescatarian"); and those diets which are primarily plants but do include a variety of animal products (sometimes referred to as "flexitarian").

Many people (as well as a significant agreement in the research) champion plant-based diets and their ability to reduce the risks of chronic diseases like heart disease and cancer. Some of my patients concerned with the commitment of becoming strictly vegan, have found a comfortable middle ground by eating less animal foods and more plants ("Meatless Mondays" for example). Whether for health, humanity, or even environmental reasons, eating more plants foods is certainly a positive gesture.
The vegetarian diet is one that avoids all animal flesh, including fish and poultry. Vegetarians who avoid flesh but do eat animal products, such as cheese, milk, and eggs, are ovo-lacto vegetarians (ovo = egg; lacto = milk and cheese). Those who eschew all animal products are referred to as pure vegetarians or vegans.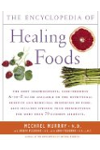 More About this Book
Encyclopedia of Healing Foods
From the bestselling authors of The Encyclopedia of Natural Medicine, the most comprehensive and practical guide available to the nutritional benefits and medicinal properties of virtually everything...
Continue Learning about Vegetarian Diets
When you look at vegetarian diets, it's hard to do so without understanding that many of the practitioners believe that it is not only healthful, but more to practice vegetarianism. This is true even if the diet may include occasi...
onal meats or fish as in the Macrobiotic diet with it's Zen beliefs, or the Indian Ayurvedic diet, which finds milk and dairy central to good health along with plants. Anyone considering a vegetarian diet should learn about the food values of different vegetables, and consider getting advice on whether or not to supplement the diet with vitamins and minerals, particularly if you have special nutritional needs like growing children or pregnant or lactating women.
More