Educating yourself and your child about this new way of eating will ensure that nutritional needs are being met. I'm not saying it will be easy. You must pay careful attention to providing alternatives for foods that have been eliminated from the diet. Just be sure that the vegetarian in your family is getting enough of the vital nutrients she needs for overall health.

The major concern with avoiding animal products is the loss of protein. However, by pairing certain foods, your child can get the equivalent protein that is found in meat. For instance, combining vegetables or legumes (e.g., beans, lentils) and grains, beans with seeds, and dairy products with grains can provide a complete protein. Eggs also contain protein and iron, but you should not rely on them exclusively for those nutrients.

If your child eliminates all animal products from her diet, including milk, eggs and cheese, encourage her to eat a variety of fresh, dark green veggies for iron, B vitamins and other minerals, and drink soy milk with added vitamin B12 and calcium. Soy- and vegetable-based meat alternatives are widely available, even at your local grocery, so stock your freezer with these healthy protein sources.

From Good Kids, Bad Habits: The RealAge Guide to Raising Healthy Children by Jennifer Trachtenberg.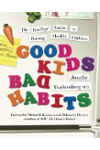 A vegetarian diet follows the same nutritional guidelines as one that includes animal products. The main difference being that you switch out the animal protein sources for plant proteins. You can use the USDA's "choose my plate" icon as a visual tool to ensure appropriate foods and portions to adequately meet her nutritional needs, the key difference being that you substitute the lean protein choices for plant-based proteins (beans, lentils, tofu, etc.), and dairy for dairy alternatives (soy milk, almond milk, etc.) if following a vegan diet. A healthy vegetarian diet is one that includes whole grains such as brown rice, whole grain bread, quinoa, etc., beans, lentils, soy, nuts, seeds, low fat/non-fat dairy or dairy alternatives, colorful fruits and vegetables. Consider consulting with a dietitian to ensure your child is meeting her nutritional needs on a vegetarian diet.
Continue Learning about Vegetarian Diets