A plant-based diet can help with weight loss because the carbs found in plant sources pack a lower-calorie punch than other types of carbs or fat. Watch exercise physiologist Marco Borges explain this healthy benefit of consuming a plant-based diet.
Weight loss is a matter of eating fewer calories than you need for your daily energy needs. Following a restricted calorie diet can be frustrating: measuring portions, adding up calories, using low-calorie products that don't taste great, and feeling hungry. A plant-based diet can help.
One major weight loss benefit of a plant-based diet is satiety. Plant foods have a high water content:
Green vegetables are typically 90% or more water
Potatoes and root vegetables are 70% or more water
Fresh fruits are typically more than 80% water
Cooked grains can be 70% or more water
Compare those water contents to other foods:
Potato chips: 2% water
Bagel: 37% water
Saltine crackers: 2% water
Corn flakes: 3% water
Vegetable oils and cooking fats: 0% water
As you can see, plant foods are going to be more filling. Meals that are based on those types of plant foods will be more filling. Another benefit: vegetables, cooked grains and fruits are naturally lower-calorie than processed foods. So not only do you feel more satisfied with the meal, you end up eating fewer calories. Plus there are many other nutritional benefits of plant-based diets: a wealth of nutrients, from vitamin A, C and folate to minerals like potassium and magnesium to antioxidants and fiber.
A recent weight loss study adds to the argument for plant-based diets. Obese subjects were assigned to one of 5 diets: vegan, vegetarian, fish/vegetarian, semi-vegetarian and meat-eating. None of the subjects was told to deliberately restrict calories. At the end of 2 months, the vegans and vegetarians had lost the most weight. After 2 months, the subjects could add back some foods if they wanted. Even with then, after 4 more months, the vegans and vegetarians had still lost almost twice as much weight as the other 3 groups. The meat-eating group lost the least weight.
Conclusion: the vegetarian and vegan diets helped people lose weight without the bother of counting calories or worrying about portions.
Eliminating meat from your diet is one of the easiest ways to lose weight, says veganist and best-selling author Kathy Freston. Watch this video to find out how substituting plant-based foods for meat and other animal products can help you slim down.
A plant-based diet can help you lose weight by offering low fat, low calorie options with reduced high calorie saturated fat found in meat, poultry and dairy products. A vegetarian diet does not guarantee a lower calorie diet. Obtain sufficient protein, fat and carbohydrate intake and reduce calories to lose weight by choosing nutrient dense whole grains, fruits, vegetables, healthy fats such as olive oil, proteins including nuts, legumes, beans, and soy products. Avoid processed, packaged foods high in saturated fat, sodium and sugar.
A whole-foods plant-based diet can definitely help you lose weight. Fruits, vegetables, legumes and whole grains are full of fiber, which will fill you up quickly. (Animal proteins have NO fiber). Also, plant foods are lower in calories, another big plus if you are trying to lose weight. As a comparison, a pound of veggies are about 100 calories, fruit is on average 300 calories per pound. Oils on the other hand are 4000 calories per pound. Meats are well over 1000 calories, and cheeses are over 2000 calories per pound.
Not only are plant-based diets proven to be healthier, they have high water content yet are low in calories. This allows you to feel full before you are tempted to add another serving to your plate. In fact, numerous studies show that vegetarians weigh significantly less than nonvegetarians as measured by body mass index (BMI) or body weight.

I concur with those experts who believe that the vegetarian's lower average body weight is linked to the high fiber content of the plant foods. Plant fiber fills you up quickly, and studies indicate that this results in less snacking and bingeing later in the day.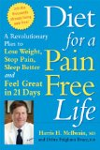 Continue Learning about Vegetarian Diets
When you look at vegetarian diets, it's hard to do so without understanding that many of the practitioners believe that it is not only healthful, but more to practice vegetarianism. This is true even if the diet may include occasi...
onal meats or fish as in the Macrobiotic diet with it's Zen beliefs, or the Indian Ayurvedic diet, which finds milk and dairy central to good health along with plants. Anyone considering a vegetarian diet should learn about the food values of different vegetables, and consider getting advice on whether or not to supplement the diet with vitamins and minerals, particularly if you have special nutritional needs like growing children or pregnant or lactating women.
More