A plant-based diet has a lot of health benefits. In a whole plant-based diet, the foods are not precessed. They're whole fruits and vegetables and whole grains. Following are a few of the health benefits of eating a plant-based diet:
reduces the risk of chronic disease
can help reverse diabetes and cardiovascular disease
full of vitamins, minerals, antioxidants, phytonutrients which are good for muscle and heart health
full of fiber, so it helps keep people regular
low in salt, sugar and saturated fat, which people eat far too much of
A plant-based diet is also good for the earth's environmental health. A plant-based diet uses significantly fewer resources. About 5,000 to 10,000 times more calories can be grown on one acre of land with a plant-based diet than with raising animals. It uses significantly less water. And also, plant-based diets have a much lower carbon footprint. They create much less methane, nitrous oxide and carbon dioxide than animal-based diets do.
There are many health benefits of a plant-based diet, including increased energy, better sleep, and decreased risk of various serious illnesses. In this video, exercise physiologist Marco Borges discusses the advantages of eating a plant-based diet.
There have been a multitude of scientific studies supporting a plant-based eating style for both weight loss and optimal health. Some findings reveal that a plant-based diet not only increases weight loss, but it actually prevents certain diseases, by targeting pro-inflammatory markers that silently increase over time.

In a study published in the journal Nutrition Reviews, researchers compiled data from eighty-seven previous diet studies and concluded that, while obesity is skyrocketing in the general population in the United States, it only affects about 0 to 6 percent of vegetarians. Vegetarians also have a much lower rate of heart disease, diabetes, hypertension, and other serious conditions that are often linked to excess body fat.

While losing weight or being a normal weight is necessary to avoid such problems as hypertension and diabetes with aging, we are just now beginning to learn how a plant-based diet can decrease the markers of inflammation in the body -- inflammation that increases the pain you feel.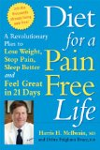 Continue Learning about Vegetarian Diets
When you look at vegetarian diets, it's hard to do so without understanding that many of the practitioners believe that it is not only healthful, but more to practice vegetarianism. This is true even if the diet may include occasi...
onal meats or fish as in the Macrobiotic diet with it's Zen beliefs, or the Indian Ayurvedic diet, which finds milk and dairy central to good health along with plants. Anyone considering a vegetarian diet should learn about the food values of different vegetables, and consider getting advice on whether or not to supplement the diet with vitamins and minerals, particularly if you have special nutritional needs like growing children or pregnant or lactating women.
More