Reduce the amount of saturated fat, trans- fatty acids, cholesterol, and total fat in the diet by eating fewer animal products and more plant foods.
Increase your intake of omega-3 oils by eating flaxseed oil, walnuts, and small amounts of cold-water fish. There is considerable evidence that people who consume a diet rich in omega-3 oils from either fish or vegetable sources have a significantly reduced risk of developing atherosclerosis. Atherosclerosis is associated with a deficiency in omega-3 oils.
Increase your intake of heart-healthy monounsaturated fats by eating more nuts and seeds, including almonds, Brazil nuts, coconut, hazelnuts, macadamia nuts, pecans, pine nuts, pistachios, and sesame and sunflower seeds, and using a monounsaturated oil, such as olive or canola oil, for cooking purposes.
Eat five or more servings daily of a combination of vegetables and fruits, especially green, orange, and yellow vegetables; dark-colored berries; and citrus fruits. Antioxidant compounds in these plant foods, such as carotenes, flavonoids, selenium, vitamin E, and vitamin C, are important in protecting against the development of atherosclerosis. These foods are also rich in B vitamins, which can help lower homocysteine levels.
Increase your intake of fiber. A diet high in fiber has been shown to be protective against atherosclerosis. Dietary fiber, particularly the soluble fiber found in legumes, fruits, and vegetables, is effective in lowering cholesterol levels.
Limit your intake of refined carbohydrates (sugar and refined grains). Sugar and other refined carbohydrates are a significant factor in the development of atherosclerosis. Sugar consumption elevates levels of the hormone insulin. Elevated insulin levels, in turn, are associated with increased cholesterol, triglycerides, blood pressure, and risk of death from cardiovascular disease.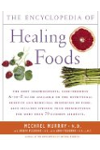 More About this Book
Encyclopedia of Healing Foods
From the bestselling authors of The Encyclopedia of Natural Medicine, the most comprehensive and practical guide available to the nutritional benefits and medicinal properties of virtually everything...
Continue Learning about Vascular Disease