"I would recommend that a pregnant woman get a whooping cough vaccine to help reduce the risk of bacteria," says Anju Bhatia, MD, of Good Samaritan Hospital. Watch this video to learn how it's beneficial to have all family members vaccinated.
CDC recommends that pregnant women receive the pertussis (whooping cough) vaccine called Tdap during each pregnancy. By doing so, the mother's body creates protective antibodies and passes some of them to her baby before birth. These antibodies give babies some short-term protection against pertussis until they can begin building their own immunity through childhood vaccinations.
Antibody levels are highest about two weeks after getting the vaccine. The vaccine is recommended in the third trimester, preferably between the 27th and 36th week of pregnancy, so the mother gives her baby the most protection (antibodies).
The amount of pertussis antibodies a person has decreases over time. This is why women need a pertussis vaccine during each pregnancy so high levels of protective antibodies are transferred to each baby.
Tdap will also protect the mother at time of delivery, making her less likely to transmit pertussis to her infant.

Talk with your doctor about getting the pertussis booster shot, Tdap, to protect yourself and your baby.

(The presence of the CDC logo and CDC content on this page should not be construed to imply endorsement by the U.S. government of any commercial products or services, or to replace the advice of a medical professional. The mark "CDC" is licensed under authority of the PHS.)
Continue Learning about Vaccine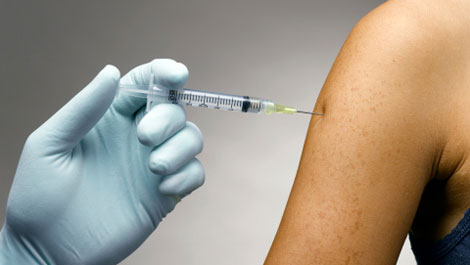 Vaccines work to protect your body against germs. Because of vaccines, many of the diseases that can cause severe sickness, handicaps and death have been eradicated. Learn more from our experts about vaccines.