Babies should get the rotavirus vaccine because it can prevent severe illness and even death. Rotavirus symptoms once sent about 70,000 kids to the hospital each year -- and as many as 60 died. But in 2006, doctors began regularly immunizing infants against the disease. The two brands of vaccine are up to 98% effective in preventing rotavirus. The vaccine prevented about 1.5 million healthcare visits between 2007 and 2011. In the process, it saved the U.S. healthcare system about $924 million. And of course, it prevented countless days of grief and misery.

Doctors give the rotavirus vaccine by mouth, not in a shot. Babies should get their first dose at 2 months of age and the second at 4 months. Depending on the brand, they may receive a third dose at 6 months of age.

Trinity Health is a Catholic health care organization that acts in accordance with the Catholic tradition and does not condone or support all practices covered in this site. In case of emergency call 911. This site is educational and not a substitute for professional medical advice, always seek the advice of a qualified healthcare provider.
The rotavirus vaccine is safe and effective in preventing rotavirus infection and the illness it may cause in infants and young children. Rotavirus often causes severe, watery diarrhea and can be accompanied with vomiting, fever and pain. Rotavirus can cause severe illness requiring hospitalization for treatments such as intravenous fluids. In rare cases it may cause death.
Your baby should get the rotavirus vaccine because rotavirus is the most common cause of serious diarrhea in infants and young children. Often, this kind of diarrhea is accompanied by vomiting and fever. These symptoms can lead to dehydration (losing too much water from the body).

Before the vaccine was available, many infants and children each year had to go to the emergency room or stay in the hospital because of this disease. Some children even died from it. The rotavirus vaccine can help protect your baby from this serious illness.
Continue Learning about Vaccine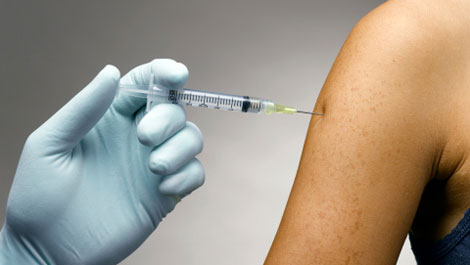 Vaccines work to protect your body against germs. Because of vaccines, many of the diseases that can cause severe sickness, handicaps and death have been eradicated. Learn more from our experts about vaccines.