Your child should get a diphtheria, tetanus, pertussis (whooping cough) (DTaP) vaccine for protection against diphtheria, a serious bacterial infection that usually affects the mucous membranes of the nose and throat; tetanus, a disease that affects the body's muscles and nerves; and pertussis, a highly contagious bacterial infection that causes uncontrollable, violent coughing.
The timing of the DTaP vaccination for children age 0-6 years is:
first dose given at 2 months
second dose given at 4 months
third dose given at 6 months
fourth dose given at 15 to 18 months
fifth dose given at 4 to 6 years
For children age 7 to 18 years:
first dose at 11 to 12 years
catch-up immunization at 13 to 18 years
Talk with your healthcare professional for further guidance.
In the United States, the recommended pertussis (whooping cough) vaccine for children is called DTaP. This is a safe and effective combination vaccine that protects children against three diseases: diphtheria, tetanus, and pertussis. For maximum protection against pertussis, children need five DTaP shots. The first three shots are given at 2, 4, and 6 months of age. The fourth shot is given at 15 through 18 months of age, and a fifth shot is given when a child enters school, at 4 through 6 years of age. If a 7- to 10-year-old is not up to date with DTaP vaccines, a dose of Tdap should be given before the 11- to 12-year-old checkup.

Vaccine protection for pertussis, tetanus, and diphtheria can decrease with time. Preteens should get a booster vaccine, called Tdap, at 11 or 12 years of age. Teens and young adults who didn't get a booster of Tdap as a preteen should get one dose when they visit their healthcare provider.

(The presence of the CDC logo and CDC content on this page should not be construed to imply endorsement by the U.S. government of any commercial products or services, or to replace the advice of a medical professional. The mark "CDC" is licensed under authority of the PHS.)
Continue Learning about Vaccine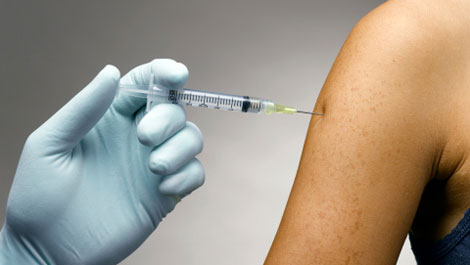 Vaccines work to protect your body against germs. Because of vaccines, many of the diseases that can cause severe sickness, handicaps and death have been eradicated. Learn more from our experts about vaccines.