The seasonal trivalent flu vaccine usually contains one of each of the three kinds of influenza viruses that most commonly circulate among people today: influenza A (H1N1), influenza A (H3N2) and influenza B viruses.
Beginning with the 2009-2010 flu season, there was a new flu to contend with -- H1N1 flu ("swine flu"), which caused the first flu pandemic in more than 40 years. Since this outbreak, seasonal flu vaccines have included coverage for the 2009 H1N1 flu.
There are several types of flu vaccinations available:
A standard trivalent flu shot, which protects against the three strains of flu that researchers anticipate will be the most common that season; it's approved for anyone age six months and older.
A standard trivalent flu shot grown in cell culture; it's approved for people age 18 and older.
A quadrivalent vaccine that protects against the same three viruses in the trivalent vaccine, plus another B virus.
A nasal spray vaccine that uses a live virus, available in trivalent and quadrivalent versions. It's approved for anyone age 2 to 49 who do not have an underlying medical condition that may make them susceptible to flu complications, such as a weakened immune system, heart or lung disease, kidney problems, diabetes or pregnancy. Children age 2 through 17 who take aspirin or medicines containing aspirin shouldn't get the nasal spray.
A thimersal-free vaccine (thimersal is a mercury-based preservative used in some flu vaccines).
Flu vaccines come as a shot or as a nasal spray. Most people can receive the flu shot. People with certain chronic diseases cannot receive the nasal spray because it is a live virus vaccine.
There are two types of flu vaccines:
1. The flu shot -- an inactivated vaccine (containing killed virus) that is given with a needle, usually in the arm. The flu shot is approved for use in people older than 6 months, including healthy people and people with chronic medical conditions.
There are three different flu shots available:
a regular flu shot approved for people ages 6 months and older
a high-dose flu shot approved for people 65 and older, and
an intradermal flu shot approved for people 18 to 64 years of age.
2. The nasal-spray flu vaccine -- a vaccine made with live, weakened flu viruses that is given as a nasal spray (sometimes called LAIV for Live Attenuated Influenza Vaccine). The viruses in the nasal spray vaccine do not cause the flu. LAIV is approved for use in healthy people 2 through 49 years of age who are not pregnant.
The presence of the CDC logo and CDC content on this page should not be construed to imply endorsement by the US Government of any commercial products or services, or to replace the advice of a medical professional. The mark "CDC" is licensed under authority of the PHS.
Continue Learning about Vaccine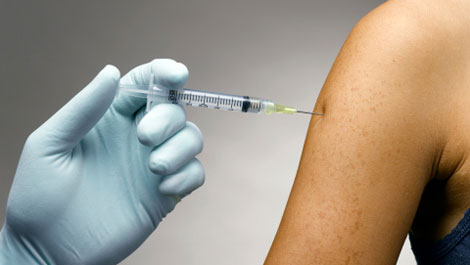 Vaccines work to protect your body against germs. Because of vaccines, many of the diseases that can cause severe sickness, handicaps and death have been eradicated. Learn more from our experts about vaccines.