The pertussis vaccine is given to prevent whooping cough, which is caused by the pertussis virus. The vaccine is typically given at 2 months, 4 months, 6 months, 15 to 18 months and 4 to 6 years of age. Thereafter a single dose of the Tdap (tetanus, diphtheria, pertussis) vaccine is recommended from 11 to 64 years of age. Whooping cough can cause coughing spells that last several weeks or months and make it difficult for infants to drink, eat or breathe. In severe cases it can result in pneumonia, seizure, brain damage or even death.
The pertussis vaccine is a small quantity of parts from the bacterium Bordetella pertussis, administered to protect an infant, child, or adult. The Bordetella pertussis bacterium causes a respiratory tract infection known as whooping cough. The vaccine is normally started as a course of vaccinations in an infant and combined with vaccines for diphtheria and tetanus known as DTaP. The pertussis vaccine may also be administered alone, usually as a booster shot in older children and adults.
Continue Learning about Vaccine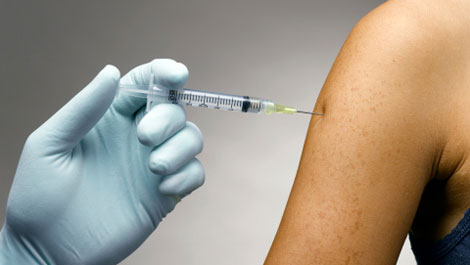 Vaccines work to protect your body against germs. Because of vaccines, many of the diseases that can cause severe sickness, handicaps and death have been eradicated. Learn more from our experts about vaccines.