The DTaP vaccine is a vaccination given against diphtheria, tetanus and pertussis (whooping cough). This vaccine is part of the scheduled vaccines for children up to the age of seven. The Td (tetanus-diphtheria) and Tdap (tetanus-diphtheria-pertussis) are vaccines for similar protection given to adolescents and adults.
DTaP is a combination immunizing agent containing diphtheria toxoid (the childrens dose), tetanus toxoid and acellular pertussis vaccine. The vaccine, in a series of five doses, is administered by intramuscular (IM) injection to protect children from diphtheria, tetanus and pertussis infections. It causes the body to produce antibodies to the bacteria that cause the infections. This vaccine is intended for children age six weeks to six years years of age, and is not approved for adults or older persons.


Continue Learning about Vaccine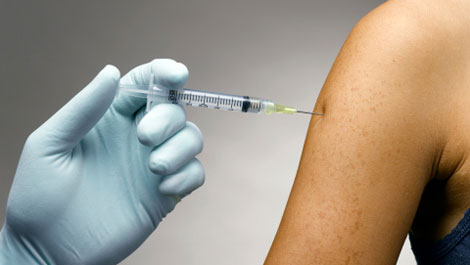 Vaccines work to protect your body against germs. Because of vaccines, many of the diseases that can cause severe sickness, handicaps and death have been eradicated. Learn more from our experts about vaccines.