Gardasil is a vaccine against the human papillomavirus, often called HPV. The vaccine is important because we now know that HPV accounts for most cases of cervical cancer. The Gardasil vaccine can help protect young women from developing cervical cancer in the future.
Gardasil is a vaccine which helps to prevent infection with HPV, or human papilloma virus. It is given as a series of three shots over a six-month period.
HPV can cause cervical, vaginal and anal cancer, as well as genital warts in women. Men can get genital warts, anal and penile cancer from HPV. Please consider getting vaccinated if you are a girl or boy between the ages of 9 and 26. If you are a minor (less than eighteen) talk to your parents about this vaccine.
Gardasil is the brand name of the vaccine for the prevention of human papillomavirus (HPV) infection. It contains antigens for four types of HPV: types 6, 11, 16 and 18. When administered to young women aged nine to 26 years of age, Gardasil can help prevent effects of HPV infection, such as genital warts, cervical cancer or other vaginal cancers (such as cancer of the vulva). Gardasil can also prevent genital warts caused by HPV in young men aged nine to 26 years of age. Gardasil is administered as an injection in a two- or three-dose series spread out over six months. Doctors usually recommend Gardasil for young girls between the ages of 11 and 12, although anyone between nine and 26 years of age can get vaccinated. Gardasil is not meant to treat existing cases of genital warts, nor should it substitute regular pelvic exams and visits to the gynecologist.
Continue Learning about Vaccine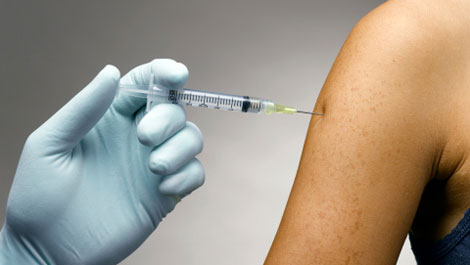 Vaccines work to protect your body against germs. Because of vaccines, many of the diseases that can cause severe sickness, handicaps and death have been eradicated. Learn more from our experts about vaccines.