Adacel is the brand name of a combination vaccine intended to protect against tetanus, diphtheria and pertussis. Tetanus is caused when Clostridium tetani bacteria get into an open wound and cause severe muscle spasms and seizures. Diphtheria is caused by Corynebacterium diphtheriae infection and causes a thick, grey coating in the nose, throat and airways, which can interfere with breathing and swallowing. It is transmitted from person to person through coughing and touching contaminated items. Pertussis (also known as whooping cough) is caused by Bordetella pertussis bacteria and causes coughing spells that are severe enough to crack ribs and to stop breathing. It is spread between people through coughing and sneezing.
Adacel works by exposing the body to small amounts of bacterial antigen that stimulates the immune system to make antibodies to the bacteria. This provides antibody protection if exposed to the disease-causing bacteria. This vaccine is licensed for use only once per lifetime. After you receive this vaccine, you will need a different vaccine (the standard Td vaccine) every 10 years to prevent tetanus and diphtheria.


Continue Learning about Vaccine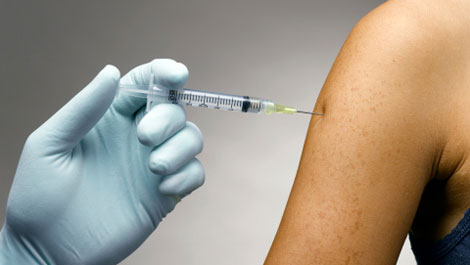 Vaccines work to protect your body against germs. Because of vaccines, many of the diseases that can cause severe sickness, handicaps and death have been eradicated. Learn more from our experts about vaccines.