Adacel is generally well-tolerated. The most common reactions are pain, swelling and redness at the injection site. Adacel also can cause flu-like symptoms, such as fever and chills; headaches or tiredness; nausea, vomiting or diarrhea; back pain, joint paint and body aches; and tender, swollen glands. As with any medication, Adacel can cause an allergic reaction with symptoms, such as a rash or hives, itching, swelling of the face or throat, wheezing and difficulty breathing. An allergic reaction requires immediate medical attention. Though rare, serious side effects can occur and require medical attention. These include: high fever; seizures; low blood pressure, collapse or shock; weakness, numbness or paralysis; behavioral changes such as prolonged crying or confusion; severe shoulder or arm pain; severe arm swelling; and skin changes (such as redness around the ears, flushing, dryness, raised swellings on the lower body or purple patches). Other reported side effects include: blood in the urine; bloody, black or tarry stools; blurred vision; chest pain or discomfort; dry mouth; fast heartbeat; difficulty swallowing; fruit-like breath odor; increased hunger, thirst or urination; stiff neck; stomach pain; sweating; unexplained weight loss; and lumps or bruising at the injection site. If you experience any side effects that you find unusual or worrisome, contact your doctor.


Continue Learning about Vaccine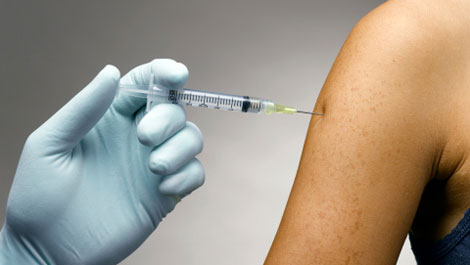 Vaccines work to protect your body against germs. Because of vaccines, many of the diseases that can cause severe sickness, handicaps and death have been eradicated. Learn more from our experts about vaccines.