Minor side effects from anthrax vaccine adsorbed (Biothrax) are common. About half of the people who take this vaccine develop a lump in the injection site. Other common side effects include: muscle or joint pain; nausea; fever or chills; fatigue; a sore, itchy, or red injection site; or a large, red area around the injection site. You also may get a rash or swollen feet or hands. You may feel weak, or the arm where you got the shot may feel stiff or painful. If you notice signs of allergic reaction, such as breathing problems, hives or swollen throat, tongue, lips or face, seek emergency care. Also, if you have any of the following serious side effects, get medical help immediately: skin becomes warm, red and blistered; bad swelling at the injection site that spreads through the arm; pale skin; bleeding or bruising easily; tingling, weak or numb feeling that spreads upward from your feet; flu-like symptoms (nausea, achiness, fever and chills); bad pain in your lower back; behavior or mood changes; feeling confused; bladder, bowel, swallowing, speech, vision or hearing problems; breathing problems; weak or slow heartbeat; feeling faint; or seizures.


Continue Learning about Vaccine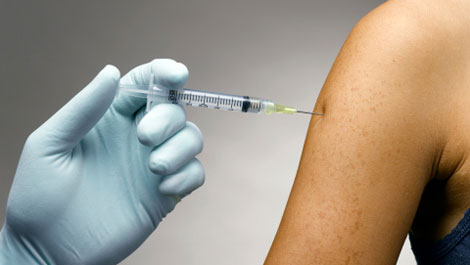 Vaccines work to protect your body against germs. Because of vaccines, many of the diseases that can cause severe sickness, handicaps and death have been eradicated. Learn more from our experts about vaccines.