Pregnant women should get the Tdap (tetanus, diphtheria and pertussis) vaccine to help protect their babies from pertussis (whooping cough), which can be life-threating in infants.
The Tdap vaccine is recommended during each pregnancy, preferably between the 27th and 36th week. After receiving the vaccine, your body will create protective antibodies (proteins produced by the body to fight off diseases) and pass some of them to the fetus before birth. These antibodies provide your baby some short-term protection against whooping cough in early life as well as some of the more serious complications of whooping cough.
This early protection is important because your baby will not begin receiving his or her whooping cough vaccines until the age of 2 months. These first months of life are when your baby is at greatest risk for catching whooping cough and having severe, potentially life-threating complications from the infection. To avoid that gap in protection, it is best to get a vaccine during pregnancy.
The presence of the CDC logo and CDC content on this page should not be construed to imply endorsement by the U.S. government of any commercial products or services, or to replace the advice of a medical professional. The mark "CDC" is licensed under authority of the PHS.
Pregnant women who are not current on their pertussis, or whooping cough, protection should get the Tdap vaccine during the second or third trimester, optimally between 27 and 36 weeks of gestation. Pertussis protection is necessary so moms do not spread pertussis to their babies.
If babies get pertussis, they can have serious complications. Since babies due not get vaccinated against pertussis until two months old, they are at high risk if mom catches pertussis.
In fact, the CDC now recommends a new Tdap booster during each pregnancy. These frequent boosters are for the protection of each new baby. Mom makes antibodies in response to the vaccine and those antibodies are passively transferred along to the baby. The goal is for the baby to have passive antibodies until the baby gets their first shots and can make their own antibodies.
Tdap (tetanus, diphtheria and pertussis) is a combination of vaccines for tetanus, diphtheria and pertussis (whooping cough). Every year, doctors see a large outbreak of pertussis, and many affected are infants 3 months of age or younger. Often the baby is exposed by a family member whose immunity has waned due to lack of maintaining booster vaccines every 10 years. Pertussis is often a mild illness in an adult but can be deadly to a new baby.
The U.S. Centers for Disease Control and Prevention (CDC) recommends receiving Tdap during every pregnancy, regardless of prior vaccine history. The best time is between 27 and 36 weeks gestation, but any time is acceptable. The goal is to allow the mother's immune system to make antibodies to pass to the baby, in hopes of giving the newborn better protection during those initial months before the baby's vaccines can safely be given.
The whooping cough or Tdap vaccine is recommended for women in the third trimester. In this video, Shuchi Desai, MD, an OBGYN with Medical City Plano in Plano, Texas, explains how this immunization helps protect the baby.
Continue Learning about Vaccine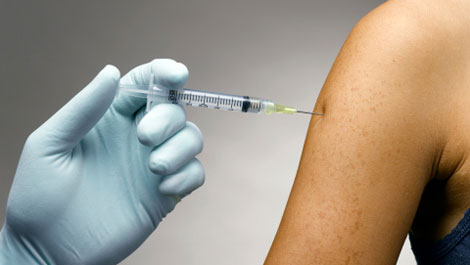 Vaccines work to protect your body against germs. Because of vaccines, many of the diseases that can cause severe sickness, handicaps and death have been eradicated. Learn more from our experts about vaccines.