There are some people who should not be vaccinated with injected influenza vaccine, according to the Centers for Disease Control and Prevention (CDC). These include those who:
Are under six months of age
Have a severe allergy to chicken eggs, although your allergist can likely immunize you safely and there are some egg-free vaccines available
Have had a severe reaction to a previous influenza vaccination
Developed Guillain-Barré syndrome within six weeks of getting an influenza vaccine
Have a fever (wait until your fever subsides)
The Centers for Disease Control and Prevention recommends talking to your doctor before getting the flu vaccine if you've ever had an allergic reaction to eggs or to a previous flu shot. It's also not recommended for children under 6 months.

You doctor may recommend that you skip the flu vaccine if you've ever had Guillain-Barre syndrome, an illness that can cause paralysis and was associated with a type of swine flu vaccine in 1976. If you're moderately or severely ill, your doctor may recommend that you wait until your symptoms clear before you get the flu vaccine.

The nasal spray flu vaccine is not recommended for pregnant women; people 50 or older; anyone with certain chronic medical conditions or weakened immune systems, or who are in contact with people with weakened immune systems; children between 6 and 23 months old; children under 5 years who have asthma or have wheezed in the last year; or children or teens on long-term aspirin therapy.

Almost anyone can get the flu vaccine in the shot form. It is recommended for children starting at six months old. It is recommended during some stages of pregnancy. The only people who should worry about the flu shot are people who have had a severe allergic reaction in the past to either the flu shot or eggs. Even people with a mild allergy to eggs can get the flu shot.
Now the flu nasal spray is a little different. Since it is a live (but weakened) virus vaccine, people with certain chronic diseases should avoid it. In addition, it is only given to people who have reached two years of age. If you have a chronic medical condition or lowered immune system, talk to your doctor to see if you can receive the nasal spray or should get the shot instead.
There are some people who should not get a flu vaccine without first consulting a physician. These include:
People who have a severe allergy to chicken eggs.
People who have had a severe reaction to an influenza vaccination.
Children younger than 6 months of age (influenza vaccine is not approved for this age group)
People who have a moderate-to-severe illness with a fever (they should wait until they recover to get vaccinated.)
People with a history of Guillain–Barré Syndrome (a severe paralytic illness, also called GBS) that occurred after receiving influenza vaccine and who are not at risk for severe illness from influenza should generally not receive vaccine. Tell your doctor if you ever had Guillain-Barré Syndrome. Your doctor will help you decide whether the vaccine is recommended for you.
If you are sick with a fever when you go to get your vaccine, you should reschedule for a later date.
The presence of the CDC logo and CDC content on this page should not be construed to imply endorsement by the US Government of any commercial products or services, or to replace the advice of a medical professional. The mark "CDC" is licensed under authority of the PHS.
Continue Learning about Vaccine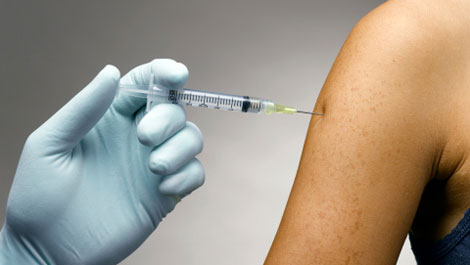 Vaccines work to protect your body against germs. Because of vaccines, many of the diseases that can cause severe sickness, handicaps and death have been eradicated. Learn more from our experts about vaccines.