You are more likely to get a pneumococcal disease if you are very young (under 5 years of age) or older (over age 65); African American, Native American, or Alaskan Native; a resident in a nursing home; an alcoholic; a person with a chronic disease; or a person with a chronically impaired immune system. The alarming occurrence of drug-resistant strains makes it especially important to prevent pneumococcal disease by vaccination.
Pneumococcal disease can become very serious and even deadly. People with weakened immune systems and the elderly are most at risk. Specifically, the following groups are at increased risk of pneumococcal disease:
people who smoke
people with certain health problems
people with weakened immune systems
people 65 years and older
infants and babies
If you fall into one of these categories, talk to your doctor about getting the pneumococcal vaccine.


Three groups of people are most at risk for pneumococcal disease: the very old, the very young, and those with impaired immune responses such as those who have lost their spleens or who are to receive cancer chemotherapy. This is not age discrimination, we promise. These just happen to be two of the three groups of people with weaker immune systems. If you're over 65, even if you refuse the senior discount and don't know what the AARP is, the bacteria that causes pneumococcal disease (Streptococcus pneumoniae) doesn't need to see a membership card. It recognizes your 65-or-older, not-as-buff-as-it-used-to-be immune system and attacks. Children under two and those with weakened immune systems fall into the same boat. Some chronic or lifelong diseases may also put a person into the high-risk category. For example, sickle cell anemia, lung disease, and heart disease are all conditions linked to a higher risk of pneumococcal disease.
Continue Learning about Vaccine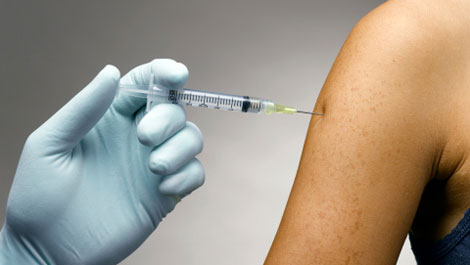 Vaccines work to protect your body against germs. Because of vaccines, many of the diseases that can cause severe sickness, handicaps and death have been eradicated. Learn more from our experts about vaccines.