Anthrax vaccine (BioThrax) is recommended for people ages 18 to 65 whose work may expose them to large amounts of B. anthracis bacteria. This may include some laboratory or remediation workers, certain people who handle animals or animal products and certain military personnel.

People who are at risk of exposure to anthrax should receive a series of five vaccines. After the first dose, the remaining doses are given 4 weeks later and again 6, 12 and 18 months after the first dose. Booster injections each year are required to maintain protection. If a dose is missed, there's no need to start the series over, but the next injection should be given as soon as possible.

Doctors may also recommend anthrax vaccine for unvaccinated people who have been exposed to anthrax. In that case, it's recommended that the vaccine be given in three injections: the first shot as soon after exposure as possible, and the second and third shots 2 and 4 weeks after the original one.
Continue Learning about Vaccine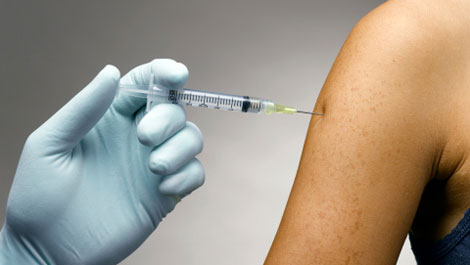 Vaccines work to protect your body against germs. Because of vaccines, many of the diseases that can cause severe sickness, handicaps and death have been eradicated. Learn more from our experts about vaccines.