Yes. But safe does not mean without risks, it means the benefits are likely greater than the risks. The Centers for Disease Control (CDC) would not allow a vaccine to be on the market for too long that wasn't safe. However, as with any medication or procedure, there are some risks of an allergic reaction. It is possible to see some swelling or redness at the site of the shot. That should go away within a few days though. There's also a chance that your child may develop a slight fever after getting the vaccine. Keep in mind that while very unlikely (only about 5%), some kids may develop a high fever over 102.2°F. All in all, you're most likely to find that your child may be more fussy and irritable than usual. Think of your Joe right before nap time or when he's hungry.
In the rare event that a serious allergic reaction occurs, you will notice symptoms quickly, within a few minutes or hours after the vaccine is given. Look for a sudden high fever, hives, wheezing, problems breathing, or unusual paleness. Call your child's doctor or 911 if you notice any of these things.
The pneumococcal vaccine is safe as most people who receive it only have minor side effects. They can include redness or pain where the injection took place, fever or muscle aches. Very rarely have allergic reactions been reported. Most children tend to only get drowsy or lose their appetite for a brief time. Talk to your doctor about any concerns you have about safety of the pneumococcal vaccine.


Continue Learning about Vaccine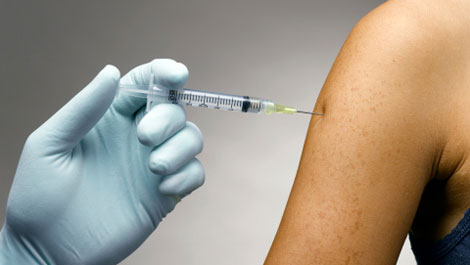 Vaccines work to protect your body against germs. Because of vaccines, many of the diseases that can cause severe sickness, handicaps and death have been eradicated. Learn more from our experts about vaccines.