Before receiving MMRV vaccine live you should know that there are situations in which you should not receive it. These include the following:
allergy to eggs, neomycin, any ingredient in ProQuad (including gelatin) or previous vaccine for the measles, mumps, rubella or varicella
immune system not working properly, because of disease or treatment
leukemia, lymphoma, inadequately treated tuberculosis, a current fever, Guillain-Barre syndrome in the past
pregnancy
taking medication containing salicylates, the combination may result in the development of a serious condition called Reye's syndrome
The most common side effects include: nausea, vomiting, irritability, tiredness, diarrhea, general feeling of being unwell, muscle or joint pain, soreness, pain, tenderness, bruising or swelling at the injection site.
More serious potential side effects include: fainting, loss of coordination, mental or mood changes, numbness or tingling of fingers or toes, seizures, high fever and severe rashes.
Drugs that interfere with immune system function can reduce the effectiveness of MMRV vaccine. If another live vaccine (such as yellow fever) is given within four weeks after MMRV, that other vaccine may be less effective than usual. MMRV can reduce skin sensitivity to the TB skin test and cause false negative results. You should have a TB skin test before or at least four to six weeks after receiving MMRV.
Continue Learning about Vaccine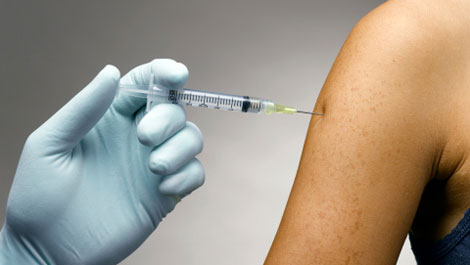 Vaccines work to protect your body against germs. Because of vaccines, many of the diseases that can cause severe sickness, handicaps and death have been eradicated. Learn more from our experts about vaccines.