Tetanus, diphtheria and pertussis are life-threatening infections caused by bacteria. In general, it is more dangerous to suffer from these diseases than it is to receive Adacel, the vaccine that prevents them. Like any medication, there are side effects associated with Adacel. However, these tend to be mild. More severe side effects, such as Guillain-Barre syndrome (a serious nervous system condition) are very rare. The inactive ingredients in this vaccine are likewise relatively safe. Specifically, Adacel contains no mercury (thimerosal) and has very small amounts of aluminum. Adacel is licensed for one-time use in people between 11 and 65 years of age. After you receive this vaccine you will need a different vaccine (the standard Td vaccine) every 10 years to prevent tetanus and diphtheria. You should not receive Adacel if you have had a serious reaction to any ingredient in this vaccine or a similar vaccine that contains tetanus, diphtheria or pertussis. Examples of serious reactions include anaphylaxis (an allergic reaction that causes throat swelling and difficulty breathing) and various conditions involving the brain (such as seizures or decreased consciousness). Before receiving this vaccine, you should speak with your doctor if you have a history of seizures, strokes or other brain disorders; Guillain-Barre syndrome; a compromised immune system (due to HIV); diabetes; cancer; a fever or infection; a bleeding disorder; or a history of a vaccine reaction (especially to a tetanus vaccine). You should also tell your doctor if you are pregnant or breast-feeding. Certain medications or vaccines can limit the effectiveness of Adacel. These include: medications that suppress the immune system (such as steroids and chemotherapy drugs), tetanus immune globulin (a medication used to treat tetanus after a potential exposure) and the influenza vaccine (flu shot). Radiation therapy used to treat cancer and other conditions can also decrease the potency of Adacel.


Continue Learning about Vaccine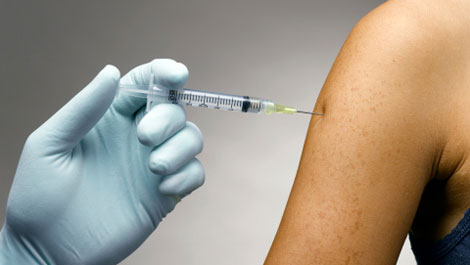 Vaccines work to protect your body against germs. Because of vaccines, many of the diseases that can cause severe sickness, handicaps and death have been eradicated. Learn more from our experts about vaccines.