Gardasil is a vaccine that protects against infection with human papilloma virus, or HPV. The vaccine is a series of three shots into the muscle which are given over a period of six months. The second shot is given two months after the first shot. The third shot is given four months later. If you are late on any of your shots, you do not have to restart the series again. Simply, pick up where you left off.
Gardasil is given in a two- or three-dose series over a period of six months. It is administered as an intramuscular injection. Because fainting may occur after receiving an injection of Gardasil, you may have to take special precautions for 15 minutes after you are vaccinated. The first dose of Gardasil may be taken by anyone between the ages of nine and 26 years of age. The second injection is given two months after the first dose; the third is given four months after the second or six months after the first dose.
Continue Learning about Vaccine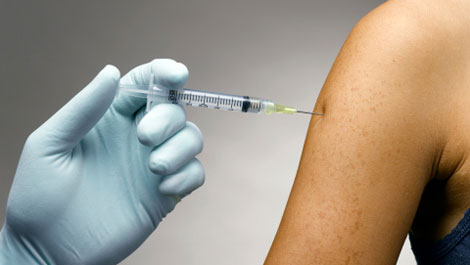 Vaccines work to protect your body against germs. Because of vaccines, many of the diseases that can cause severe sickness, handicaps and death have been eradicated. Learn more from our experts about vaccines.