The flu shot is recommended to most women during pregnancy. In this video, Shuchi Desai, MD, an OBGYN with Medical City Plano in Plano, Texas, explains the importance of this vaccine.
During pregnancy a woman's immune system may be compromised. She is therefore more susceptible to infections, including the flu. Although many health care providers encourage everyone to get any vaccines they need prior to pregnancy, and then resume after the pregnancy, the flu vaccine is not one of these. When pregnant women get the flu they are more seriously affected and have far more complications. Having the flu while pregnant is cause for concern as moms oxygenation affects the baby's oxygenation. I have seen pregnant women so ill from the flu that they have ended up in the intensive care unit. I recommend that all my patients get vaccinated during the pregnancy. I remind them that, unlike years past where all the flu was in the fall/winter, that this year we are seeing the flu late this spring. People still die from the flu. If you are pregnant and have not been vaccinated, ask your health care provider about where you can get the vaccine that doesn't use any mercury (thimerosal). It may cost a little more, but it is worth it.
Flu during pregnancy can be worrisome, so the vaccine is recommended during all trimesters. In this video, Arlene Jacobs, MD, an OBGYN with Medical City Frisco in Frisco, Texas, explains more.
If you're pregnant, you should consider getting a flu vaccine. Pregnancy causes changes in the heart, lungs and immune system that can make you more vulnerable to the flu and increase your risk of complications, including premature labor and delivery.
A flu shot can also protect your baby, not only during pregnancy but for up to six months after she's born. Opt for a shot rather than the nasal flu vaccine; the flu shot has been used in pregnant women for years and isn't known to cause any harm to them or their babies.
Influenza (flu) is a respiratory illness that affects pregnant women more severely than non-pregnant women, so women who will be pregnant during flu season (October through May) should get a flu shot (the inactivated vaccine). Despite common myths, this vaccine cannot cause the flu, and it can protect the mother and fetus, as well as improve the baby's immunity after birth. Infants also are at risk because they can't receive the vaccine until 6 months of age.
The CDC recommends that all pregnant women get the flu vaccine. In this video, Dr. Darria Long Gillespie, MD, will explain why it's beneficial to both the mother and baby.
The immune system of pregnant women changes to allow something that is not all her to grow inside. Pregnancy in some ways does decrease a women's ability to fight off infection. The flu shot helps protect women from the flu during a time of lowered immunity. In addition, moms should be aware that there are benefits for her baby. Because a serious illness, like the flu, during pregnancy can cause problems for the baby, the flu shot protects both the mother and the growing baby.
Yes. The flu is more serious in pregnant women than non-pregnant women and is the leading cause of hospitalization among pregnant women. Plus, if a woman develops serious flu symptoms, they can compromise the amount of oxygen she and her baby are getting. Ask for the vaccine that does not use thimerosal (mercury) as a preservative. It's slightly more expensive (between $4 and $8 more), but worth the price.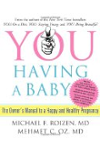 More About this Book
YOU: Having a Baby: The Owner's Manual to a Happy and Healthy Pregnancy
Can I get a cavity filled while pregnant? Will avoiding spicy foods make my kid a picky eater? Can I really increase my baby's IQ while she's in utero? Whether you're pregnant for the first time, are trying to start your family, or already have enough children to start your own basketball team, you're bound to have questions about what it means to be pregnant -- and how you can increase your odds of having a healthy and happy pregnancy. But no matter how much you've read, watched, studied, or talked about this amazing biological journey, you have never read anything like this. In this groundbreaking book, Dr. Michael Roizen and Dr. Mehmet Oz act as mythbusters for the hundreds of questions surrounding pregnancy in the same scientific, informative, and entertaining ways that have made them America's Doctors. In these pages, you'll learn everything you need to know about the miracles of fetal development, your health throughout the pregnancy, and providing the best possible environment for your growing child. Pregnancy is a complicated balancing act, but it doesn't have to be frightening. The doctors will help you de-stress as they describe accurately and rationally what happens during a thrilling nine months of life. While every pregnant body is different, odds are you'll experience some of the cravings, crying, and discomfort that almost all women go through. Your best tactic? Learn why these things are happening -- and what you should do about them. YOU: Having a Baby will teach you everything you need to know about what to eat (should I be eating for two?), how much to exercise, and what guilty pleasures will actually make pregnancy easier on you (and the loved ones who get to be around you for the whole thing). Each phase of pregnancy has different challenges, but the right information will prepare you for what's ahead. The interactive week-by-week calendar inside provides an even more detailed guideline for how and what you should feel through every step of the process. Exciting, cutting-edge scientific research in the fi eld of epigenetics has changed the way the medical profession looks at pregnancy, and now it can change your perspective, too. Epigenetics explores what makes us develop in certain ways -- why some people thrive at math while others are prone to chronic diseases. It turns out that there are easy things you can do that will not just help your baby's development in utero but will actually improve his or her chances of living a healthy, fulfi lling adult life. Filled with recipes for nutritious, satisfying snacks and meals even Pop can cook (yes, he can!), safe exercises for staying fit, and tons of YOU tips that will help you stay comfortable, YOU: Having a Baby is the ultimate guidebook for what to do from the moment of conception to the weeks after your child has arrived home. From morning sickness and food cravings to choosing a doctor and changing a diaper, YOU: Having a Baby will give you the real scoop about what's in store for you during this amazing time in your life.
Continue Learning about Vaccine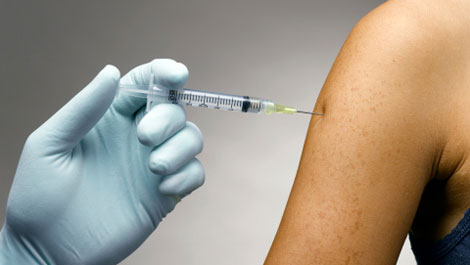 Vaccines work to protect your body against germs. Because of vaccines, many of the diseases that can cause severe sickness, handicaps and death have been eradicated. Learn more from our experts about vaccines.