There are two types of pneumococcal vaccines: pneumococcal polyvalent and pneumococcal 13-valent diphtheria conjugate. They each prevent infection from pneumococcal bacteria by making your body produce its own protection (antibodies) against the disease. Talk to your doctor about which vaccine you need, and when to receive it.


At the moment, there are two kinds of pneumococcal vaccines: the pneumococcal polysaccharide vaccine (save some syllables and sound official by calling it PPSV) and the pneumococcal conjugate vaccine (PCV7 or PCV13; no relation to C3PO). The PPSV is made from inactivated or dead bacteria that cause pneumonia. It is generally used for people with weakened immune systems, those over 65, or people with long-term or chronic diseases. Nursing home residents and smokers between the ages of 19 and 64 should also get this type of the vaccine.
The PCV7 or PCV13 vaccines on the other hand, are made from live bacteria and often cause a stronger immune response. The PCV13 vaccine is more common these days than PCV7 because it protects against 13 different types of bacteria that can cause pneumonia (the PCV7 only protects against seven types). The PCV13 type of vaccine should be given in four doses to kids under two years old; older kids and teenagers may also need to get at least one dose of this vaccine, even if they have already gotten all their doses of the PCV7 vaccine.
Continue Learning about Vaccine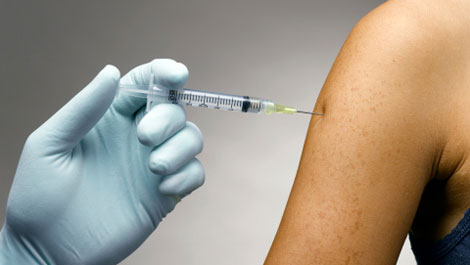 Vaccines work to protect your body against germs. Because of vaccines, many of the diseases that can cause severe sickness, handicaps and death have been eradicated. Learn more from our experts about vaccines.