Unless you are told otherwise by your doctor, there is no need to restrict food, beverages or activity after you receive Adacel. However, certain medications can interact with and reduce the potency of Adacel. These include: drugs that weaken the immune system, tetanus immune globulin and other vaccines. Drugs that weaken the immune system are used to treat a variety of conditions, such as cancer, organ transplant rejection, autoimmune diseases (in which the body mistakenly attacks its own tissues) and diseases associated with inflammation (such as asthma). Examples include: azathioprine, biologic medications (drugs made from natural sources), chemotherapy drugs, steroids, cyclosporine, methotrexate, mycophenolate, sirolimus and tacrolimus. Tetanus immune globulin is a medication used to prevent tetanus infection in people who have not been adequately vaccinated. It is used after a potential exposure to the bacteria that causes tetanus (for example, stepping on a rusty nail). It contains antibodies that help your body fight a tetanus infection. The influenza vaccine (flu shot) has been shown to interfere with Adacel. However, when given with the hepatitis vaccine, both drugs appear to be effective. The potential interactions between Adacel and other vaccines have not been studied. Radiation therapy used to treat cancer and other conditions may reduce the body's response to (and therefore limit the effectiveness of) Adacel.


Continue Learning about Vaccine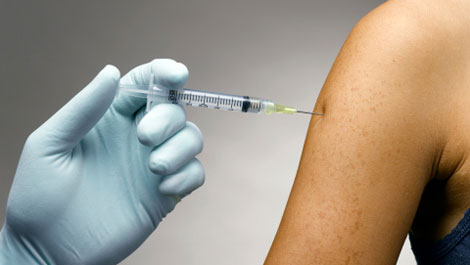 Vaccines work to protect your body against germs. Because of vaccines, many of the diseases that can cause severe sickness, handicaps and death have been eradicated. Learn more from our experts about vaccines.