We gave no immunizations for 6 months and most all immunizations were given about a year after recommended, with the hope that our children's immune systems would mature. Yet at the same time we needed to complete the recommended immunizations before school started to avoid battles with the health department.

We gave no immunizations that we were not legally obliged to administer in New Jersey, and none of the kids got hepatitis B vaccines when they were babies. On the positive, we agreed with most of the recommended immunizations in New Jersey.

My wife, Lisa, breast fed all the kids and none of the children were in day care, so we had two important risk factors on our side. We had no genetic fears except that I'm probably borderline ADHD. We placed lots of emphasis on the child being healthy at the time of immunization and we were careful about their diet, but we did administer vaccines in groups to reduce the children's fears and visits to the pediatrician.
My fellow YOU Doc (Dr. Roizen) went with the standard (AAP and CDC) schedule of immunizations. Hepatitis B vaccination did not exist at that time. His wife, Nancy, breast fed both children, but returned to work as a pediatrician after 3 months. Since she saw sick kids and their kids shared a baby sitter, they had all the high risk factors for childhood diseases.
They had no genetic fears except that Dr. Roizen (like myself) is probably also is borderline ADHD. Other than normal sleep patterns and not being dehydrated, they did nothing special for the children prior to immunization. Mike's children did receive the vaccines as recommended in groups to reduce the children's fears and visits to the pediatrician.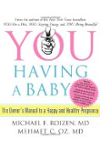 Continue Learning about Vaccines & Immunizations