There isn't a direct link between diet and fibroids, but there does seem to be some dietary modifications that can decrease the incidence of fibroids. In this video, OB/GYN specialist Jessica Shepherd, MD, discusses the foods to embrace - and avoid.
Foods may be key in the treatment and prevention of fibroids. Since excessively high estrogen levels seem to play a role in fibroid development, research suggests that cutting down on red meat, which is believed to boost estrogen levels, could help. Furthermore, certain phytoestrogens (phytochemicals found in certain vegetables and fruits) are believed by many experts to help moderate the effect of estrogen in the body -- enhancing estrogen if estrogen levels are too low, blocking estrogen's effects if the levels are too high.

When Italian scientists analyzed the diets of over 2,300 women, they found that those who ate the most red meat and the least amount of green vegetables had a significantly higher incidence of fibroids than women who ate more vegetables and less red meat. Researchers currently believe that you can reduce your risk for developing fibroids by increasing your consumption of broccoli, asparagus, spinach, kale, romaine lettuce, and other green vegetables. I recommend 7 to 10 servings a day. But don't stop there. By all means, limit your consumption of red meat to no more than 3 ounces a day. Replace it with generous portions of soy protein for heart disease protection and, as an added benefit, reduction or elimination of menopausal symptoms.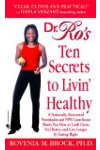 More About this Book
Dr. Ro's Ten Secrets to Livin' Healthy
In this one-of-a-kind book, Dr. Rovenia M. Brock—known as Dr. Ro™ to fans of Black Entertainment Television's Heart & Soul—reveals practical, satisfying ways for African American women to eat...
Continue Learning about Uterine Fibroids
If you have uterine fibroids, you may never even notice that they are there. Ranging from the size of a small seed to grapefruit-sized, fibroids are tumors on the uterus that rarely cause harm. Some women have true discomfort with ...
fibroids, including pain in the abdomen or low back, or pain during sex. Sometimes, uterine fibroids can cause miscarriage, preterm labor, or even lead to infertility. Women in their 40s and 50s, women of African-American descent and women that are overweight are at higher risk of developing fibroids, although an estimated 20-80% of women will have them at some point before they turn 50. If your doctor notices fibroids during an ultrasound or pelvic exam, he or she may want to treat them with medication or surgery.
More