In 2011 the U.S. government introduced MyPlate, a new and improved icon for healthy eating. Like the Food Pyramid that it replaces, MyPlate is based on the Dietary Guidelines for Americans. However, MyPlate is much easier to use than the Food Pyramid ever was. All you have to do is glance at MyPlate and you'll get an instant snapshot of the role that each of the five food groups should play in healthy eating. For starters, vegetables and fruits are very important and should fill half the plate. Grains should take up the next largest section of the plate. The remaining plate space is reserved for protein foods (like lean meat and beans). Finally, off to the right, you'll notice a dairy circle as a reminder to include some calcium-rich foods, such as milk or yogurt.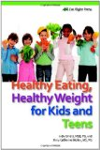 MyPlate is the most recent tool released by the USDA that serves as an icon to remind consumers to eat healthfully. It depicts the five food groups using a familiar mealtime visual, a place setting.

MyPlate is the focal point for a larger, web-based communication and education initiative at ChooseMyPlate.gov that provides information, tips and tools to help you build a healthier diet based on the Dietary Guidelines for Americans, 2010. Continue Learning about USDA MyPlate