Though cranberries–usually in the form of juice or supplements–are a longtime folk remedy for preventing urinary tract infections, the truth is they probably don't help. A 2016 study of nursing home residents who took cranberry supplements found no benefit in reducing the chances of an infection. That agrees with a previous review of 24 studies including nearly 4500 people, which concluded that cranberry juice can't be recommended for prevention, either. Experts said it's time to move on to better ways to prevent infection, such as drinking more water to flush out the urinary tract, urinating before and after sex, and always wiping from front to back when going to the bathroom.
This was a popular home remedy for a long time, but unfortunately, there's no good evidence that it helps. In lab studies, cranberry juice has been shown to inhibit bacterial growth in test tubes and prevent bacteria from "sticking" to bladder cells. But there haven't been any big studies showing an effect in real, live people.

That said, there's not too much possible harm. The main downside is the calories and sugar intake, and some women may experience heartburn with it. However, if you have recurrent UTIs, you're healthy, you enjoy cranberry juice, and you make sure you don't significantly add to your calorie load, go ahead and try it!

Unsweetened cranberry juice makes your urine more acidic and prevents bacteria from sticking to the lining of your bladder. As a result, you may be less likely to get a urinary tract infection (UTI).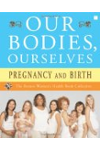 More About this Book
Our Bodies, Ourselves: Pregnancy and Birth
ALL THE INFORMATION YOU NEED TO MAKE WISE DECISIONS ABOUT YOUR PREGNANCY AND THE BIRTH OF YOUR CHILD -- FROM THE EDITORS OF THE CLASSIC "BIBLE OF WOMEN'S HEALTH" Pregnancy and birth are as ordinary...
Continue Learning about Urinary Tract Infections (UTI)