Unfortunately for us gals, our anatomy is our destiny. Because our urethra is so short (three to five centimeters), it is very easy for bacteria to travel the small distance from our anus to our urethra and enter our bladder, especially if we aren't careful about wiping from front to rear. Bacteria may also be pushed into our bladder during sexual intercourse. An overgrowth of bacteria in the urine is an indication of a urinary tract infection (UTI) a.k.a. cystitis a.k.a. bladder infection.
Women at risk for a UTI may: void infrequently, allowing for a build up of bacteria in their stagnant urine that can inflame the bladder or infect the urethra; be lax about wiping properly after a bowel movement; use a diaphragm that irritates them or that is improperly cleaned; and/or engage in rough sex that bruises the urethra or causes swelling and inflammation in the vaginal area. You will know when you have a UTI, because you will feel the urge to urinate very frequently, yet you will generally void only small amounts of urine. You may also experience burning, pain, or dysuria.
A UTI is diagnosed by means of urinanalysis, which detects the presence of bacteria in the urine. The infection is then treated with an antibiotic. Once you've had a UTI, you will never forget the uncomfortable, unpleasant experience.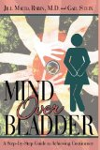 Women suffer from bladder infections far more often than men do. The urethra in women is shorter and the possibilities for bacteria to enter the urethra are greater. When men experience a bladder infection, however, the situation is usually more serious. An infection in men leads from the urethra through the prostate into the bladder and it is difficult to clear the infection from the prostate. Other causes of infection in men may be kidney stones or a narrow urethra from disease, surgery or a catheter.
Continue Learning about Urinary Tract Infections (UTI)