Incontinence when you run is not uncommon. The technical name for this is stress urinary incontinence. Running puts stress on your pelvic floor muscles, which tend to get "fatigued" the longer you run. This is why it is common to have incontinence issues toward the end of your run rather than right at the beginning. When the pelvic floor muscles are fatigued, you may have a relaxation of the urethra allowing urine to escape the bladder. Kegel exercises, when done properly, can help to improve stress incontinence. You may also benefit from relieving your bladder right before your run. Talk with your doctor if the issue persists.

Continue Learning about Urinary Incontinence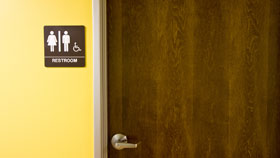 Urinary incontinence (UI) is the accidental release of urine, which can affect both men and women. Symptoms of UI may differ from person to person and the treatment options range from medications to surgery. Learn more from our ex...
perts about UI.
More