What are surgical procedures for stress incontinence?
The surgical treatment of stress urinary incontinence involves the placement of a sling, says Victor Grigoriev, MD, a urologist at MountainView Hospital. In this video, he says that patients return to normal activities within one to two weeks.
Surgical procedures for restoring continence can be performed through an abdominal incision, laparoscopically, or through a vaginal approach. The most reliable of these procedures in women are the Burch colpocystourethropexy and the pubovaginal sling. The sling procedure places a strong material beneath the urethra and bladder neck to provide strength to the sphincter valve and restore its function. Results show excellent durability with low complication rates for patients of all ages.
For males with significant stress incontinence, surgical therapy includes placement of an artificial urinary sphincter or a supporting urethral sling. The artificial urinary sphincter is a mechanical device designed to replace the function of the weakened sphincter valve. It provides closure of the urethra on a continuous basis and is opened by squeezing a small pump implanted beneath the skin of the scrotum. This allows unrestricted voiding, after which the device closes automatically. The male sling is surgically placed beneath the urethra through an incision in the perineum (the area between the scrotum and the anus) and looped behind the pelvic bones. It lifts and supports the urethra and sphincter mechanism to lessen the forces of gravity and abdominal pressure that can cause stress incontinence.
Continue Learning about Urinary Incontinence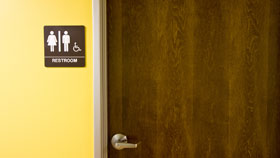 Urinary incontinence (UI) is the accidental release of urine, which can affect both men and women. Symptoms of UI may differ from person to person and the treatment options range from medications to surgery. Learn more from our ex...
perts about UI.
More