The post-void residual volume test, which can be part of urodynamic testing for urinary problems, measures the amount of urine left in your bladder after you urinate. Two techniques are used to measure this. The physician may insert a flexible tube (called a catheter) through your urethra into the bladder to draw off the remaining fluid (which also provides an uncontaminated sample for urine culture and prepares you for further tests). Being catheterized usually causes only mild discomfort. Alternatively, the amount of urine in your bladder can be visualized using a specialized ultrasound machine called a bladder scanner. This is quicker and more comfortable, and it avoids the possibility that inserting a catheter could cause an infection or traumatize the lining of the urethra. However, it can be less accurate.

Measuring residual urine volume with a post-void residual volume test is particularly valuable if you are troubled by repeated urinary tract infections, have a neurological disorder, or if your doctor suspects that a blockage is preventing your bladder from emptying properly.
Continue Learning about Urinary Incontinence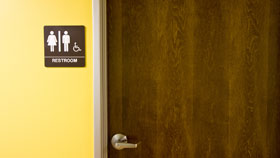 Urinary incontinence (UI) is the accidental release of urine, which can affect both men and women. Symptoms of UI may differ from person to person and the treatment options range from medications to surgery. Learn more from our ex...
perts about UI.
More