Overflow incontinence in men is when the bladder, which is essentially a muscular bag, is so full, it just slowly leaks urine out. It is past its capacity to store any more urine.

When men have overflow incontinence their bladder will be full, but there is either a blockage in the prostate or they could have strictures or scar tissue in the urinary channel. In overflow incontinence, which typically happens more in men than in women, people may say, "I leak urine unexpectedly, and I don't feel like my bladder empties after I go to the toilet."
Continue Learning about Urinary Incontinence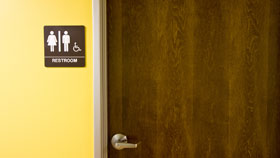 Urinary incontinence (UI) is the accidental release of urine, which can affect both men and women. Symptoms of UI may differ from person to person and the treatment options range from medications to surgery. Learn more from our ex...
perts about UI.
More