Overflow incontinence is the inability to completely empty the bladder, says Meenakshi Jain, MD, specializing in gynecology at St. Petersburg General Hospital. Learn more about this condition in this video.
Overflow incontinence is more common in men. If your bladder never completely empties, you might experience urine leakage, with or without feeling a need to go. Overflow incontinence occurs when something blocks urine from flowing normally out of the bladder, as in the case of prostate enlargement that partially closes off the urethra. It can also occur if the bladder muscle becomes underactive (the opposite of an overactive bladder) so you don't feel an urge to urinate. Eventually the bladder becomes overfilled, or distended, pulling the urethra open and allowing urine to leak out. The bladder might also spasm at random times, causing leakage.
Continue Learning about Urinary Incontinence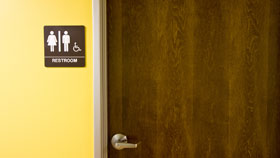 Urinary incontinence (UI) is the accidental release of urine, which can affect both men and women. Symptoms of UI may differ from person to person and the treatment options range from medications to surgery. Learn more from our ex...
perts about UI.
More