Functional urinary incontinence is uncontrollable urination as the result of some kind of impairment. You may be able to control your bladder, but something psychically or mentally may impede you. For example, someone in a wheelchair may not be able to get to the bathroom fast enough. Someone who is drunk may not have the mental awareness to make it to the restroom.
People with functional incontinence have no problems with bladder function and control per se but are unable to reach a bathroom in time due to loss of mobility caused by:
• A physical disability (Parkinson's disease, arthritis, poor eyesight, etc.)
• Decreased mental awareness (Alzheimer's)
• Memory loss or confusion (unawareness of the urge to void, failure to
remember the location of the bathroom)
• Drugs that adversely alertness, responsiveness, wakefulness, mobility,
and agility
• Inconvenient facilities (distant bathroom, inaccessibility for wheelchairs)
The elderly in acute care and long-term care facilities are those who suffer the most from functional incontinence.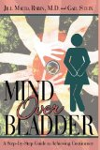 If your urinary tract is functioning properly but other illnesses or disabilities are preventing you from staying dry, you might have what is known as functional incontinence.

For example, if an illness rendered you unaware or unconcerned about the need to find a toilet, you would become incontinent. Medications, dementia, or mental illness can decrease awareness of the need to find a toilet.

Even if your urinary system is fine, it can be extremely difficult for you to avoid accidents if you have trouble getting to a toilet. This problem can affect anyone with a condition that makes it excessively difficult to move to the bathroom and undress in time. This includes problems as diverse as having arthritis, being hospitalized or restrained, or having a toilet located too far away.
Continue Learning about Urinary Incontinence