The artificial urinary sphincter (AUS) is an implantable device used to treat stress incontinence in men. There are three components: a fluid filled reservoir roughly the size of a golf ball that is implanted in the groin area next to the bladder; a pump device about the size and shape of the thumb is placed inside the scrotum in front of one of the testicles; and a circular inflatable cuff that is placed around the urethra and sphincter area.
When activated, the cuff compresses the urethra with sufficient pressure to withstand forces associated with most activities. When one has the usual sensation of a full bladder, the pump in the scrotum is pressed between the fingers twice to allow the cuff to open. Voiding is completed in the normal fashion and the device automatically closes over one to two minutes. Implantation of this device generally requires 60-90 minutes and an overnight stay in the hospital. The device is left inactivated for a period of four to six weeks following implantation to allow for successful healing and recovery. After this waiting period the device, is turned on and results are immediate.
The AUS usually provides an improvement in quality of life in the majority of men with significant stress urinary incontinence.
Continue Learning about Urinary Incontinence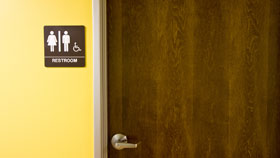 Urinary incontinence (UI) is the accidental release of urine, which can affect both men and women. Symptoms of UI may differ from person to person and the treatment options range from medications to surgery. Learn more from our ex...
perts about UI.
More