Three distressing but uncommon problems may occur after any type of surgery for stress incontinence (leaking when coughing or jumping), although the risks vary with the different procedures:
You might develop symptoms of overactive bladder (frequent urination and urges to urinate), even if you were never troubled by them before (7%-15% of patients experience this).
Although it's not common, you might undo the benefits of the surgery by lifting or other strenuous activity, even after the healing period is over.
You might go from incontinence to having difficulty urinating temporarily, in rare cases requiring a catheter to empty your bladder.
The sling material (which supports the urethra hammock-style) may erode through the vaginal wall. This problem can be repaired relatively easily -- sometimes in the office under local anesthesia.
Continue Learning about Urinary Incontinence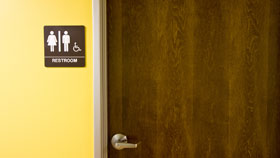 Urinary incontinence (UI) is the accidental release of urine, which can affect both men and women. Symptoms of UI may differ from person to person and the treatment options range from medications to surgery. Learn more from our ex...
perts about UI.
More