Childbirth can be one reason why women have urinary incontinence.
Watch the video to learn about more causes of urinary incontinence in women, from Dr. Oz.


Stress incontinence in women may be caused by weakened pelvic muscles or connective tissue (fascia) or weakened urethral sphincter muscles. There are several different explanations for how these muscles lost their original good tone and, consequently, now cause bladder accidents.
Weakened pelvic muscles (those that support the bladder, bladder neck, and urethra) are the primary cause of stress incontinence in women.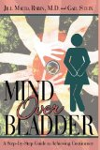 In women, incontinence results from any of three main problems: (1) the bladder's detrusor muscle can become unstable or overactive, which can cause urge and frequency incontinence; (2) the urinary sphincter that normally opens and closes at your command may become weakened, leading to stress incontinence; or (3) the pelvic muscles (urogenital diaphragm) may be weakened, which can also cause stress incontinence.
Bearing a child can contribute to incontinence or pelvic prolapse twenty years later. Watch this video with Dr. Kevin Benson of Sanford Health to learn what a woman can do after giving birth to help prevent pelvic floor disorders down the road.
Watch as obstetrician and gynecologist Dr. Evelyn Minaya discusses the factors that cause urinary incontinence.
Continue Learning about Urinary Incontinence