Stress incontinence in men is caused by increased abdominal pressure and weak muscles. They have involuntary leakage associated with increased abdominal pressure, and the external sphincter muscles are weak. The bladder gets pressure from the outside rather than the inside, and the man leaks urine.

When men have stress incontinence, they usually lose control of their urine when they cough, sneeze or stand up. It generally occurs when they change their position. It's particularly bad when they are walking around.

Stress urinary incontinence happens in women as well, but for different reasons than in men.
Continue Learning about Urinary Incontinence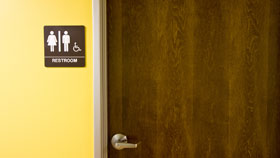 Urinary incontinence (UI) is the accidental release of urine, which can affect both men and women. Symptoms of UI may differ from person to person and the treatment options range from medications to surgery. Learn more from our ex...
perts about UI.
More