For men, there are several absorbent products designed with the male anatomy in mind. Drip shields (with light protection) or guards (that absorb more) with waterproof backings slip over the head of the penis and can be kept in place with any relatively tight-fitting briefs. Some cover the scrotum as well and fit better if the penis is small or retracted. Brand names include Attends and Conveen. These products absorb 3 to 4 ounces of urine. When men with light incontinence compared four types of products, drip guards were the favored design for day and night use. For heavier incontinence, you can wear absorbent inserts, shaped to fit men (such as Depend and Dignity), inside your own underwear or special mesh briefs.
For women with incontinence, products include a range of disposable and reusable pads and underwear. Among these are traditional underwear designs with a special crotch that wicks urine away from the surface and stores it. If you are limited in movement and dexterity, ask about products that are designed for easy use by people with disabilities. Women with mild incontinence may use less expensive and readily available menstrual pads, reserving specific (more expensive) incontinence products for when extra protection and dryness are needed. Before investing in a large quantity of incontinence pads, try smaller packages of several brands to see which works best for you; many women strongly prefer one brand over another.
Continue Learning about Urinary Incontinence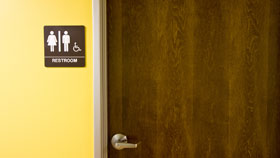 Urinary incontinence (UI) is the accidental release of urine, which can affect both men and women. Symptoms of UI may differ from person to person and the treatment options range from medications to surgery. Learn more from our ex...
perts about UI.
More