Obesity can be associated with an increased risk of stress urinary incontinence (SUI). Urinary incontinence of the stress variety is generally due to a weakness of the muscles, which support the bladder and pelvic organs, as well as a tearing of the connective tissue. The greater the pressure in your abdominal cavity the greater the pressure on your pelvic organs, including your bladder, which raises the possibility of leakage. One of the most common reasons for higher pressure in the abdomen is increased body weight.

Other causes, in addition to weight, for SUI is a weakened pelvic floor because of prior childbirth, pelvic surgery and menopause.

The most important thing to remember is to see your physician, (urogynecologist or urologist) in order to diagnose your type(s) of incontinence, to design a treatment plan for you to address your specific problem.

In any case, we do know that decreasing your weight over time will decrease the pressure on your pelvic floor and bladder, and improve the stress incontinence in most cases.
Yes, obesity is one of the top causes of urinary incontinence. The most common cause of urinary incontinence is obstetrics trauma with a vaginal delivery. The second most common cause of urinary incontinence is obesity. The significant amount of weight on the bladder causes constant pressure and strain on the ligaments and connective tissue holding the urethra in place. This can increase the risk of hypermobility of the urethra causing urinary incontinence. Patient's who are overweight also have very poor nutrition and this can cause problems with the strength of their connective tissue.
It's possible that being overweight can cause stress urinary incontinence, or make existing SUI worse. The extra weight of the body presses down and stresses the bladder, causing accidents. For both men and women, weight loss may help reduce or eliminate SUI, depending on the cause.
Continue Learning about Urinary Incontinence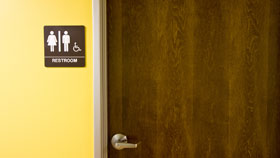 Urinary incontinence (UI) is the accidental release of urine, which can affect both men and women. Symptoms of UI may differ from person to person and the treatment options range from medications to surgery. Learn more from our ex...
perts about UI.
More